1991 Vehicle Specifications
Tags: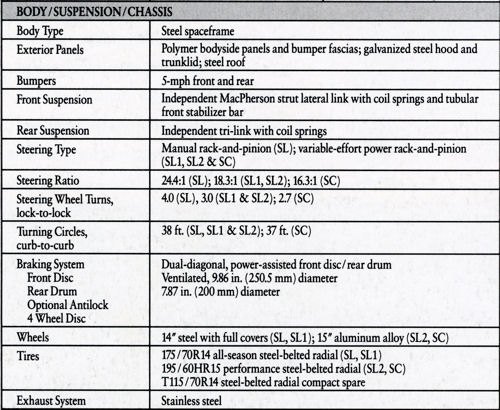 Shown above are the body, suspension, and chassis specifications for Saturn's 1991 sedans (SL, SL1, SL2) and coupe (SC). They were all built off of Saturn's so-called "Z" platform, which was essentially a compact front-wheel-drive steel spaceframe chassis. The full spec sheet is posted in the photo gallery.
Random Article from the SaturnFans.com Archives
The Detroit News published an article yesterday about GM's new, more polished and sophisticated "jet-set style" vehicle interiors. While the article provided some interesting insight into the vision behind GM's quest to make its cars and trucks a benchmark in the industry, it was the last paragraph of the article that was most intriguing.