1991 Vehicle Specifications
Tags: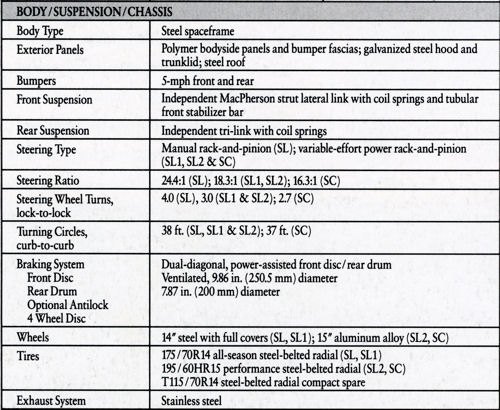 Shown above are the body, suspension, and chassis specifications for Saturn's 1991 sedans (SL, SL1, SL2) and coupe (SC). They were all built off of Saturn's so-called "Z" platform, which was essentially a compact front-wheel-drive steel spaceframe chassis. The full spec sheet is posted in the photo gallery.
Random Article from the SaturnFans.com Archives
Tags:
General Motors achieved another milestone in its reinvention last night when Judge Robert E. Gerber of the U.S. Bankruptcy Court for the Southern District of New York approved the sale of substantially all of General Motors Corporation's assets to NGMCO, an entity funded by the U.S. Department of the Treasury.