1991 Vehicle Specifications
Tags: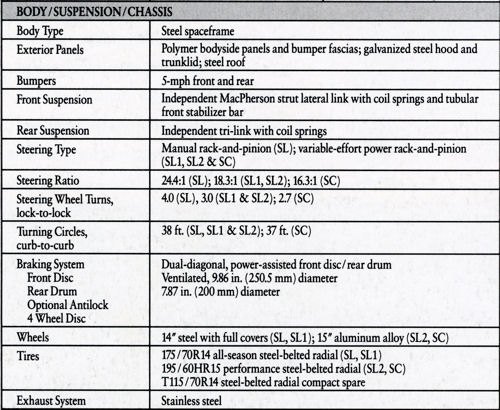 Shown above are the body, suspension, and chassis specifications for Saturn's 1991 sedans (SL, SL1, SL2) and coupe (SC). They were all built off of Saturn's so-called "Z" platform, which was essentially a compact front-wheel-drive steel spaceframe chassis. The full spec sheet is posted in the photo gallery.
Random Article from the SaturnFans.com Archives
General Motors today announced new reduced rate 4.9% APR financing on select Saturns, and rates as low as 0% APR for up to 60 months on other select new GM cars and trucks. The reduced rate financing is available to qualified buyers today through January 5, 2009 on many 2008 and select 2009 model year vehicles.