1991 Vehicle Specifications
Tags: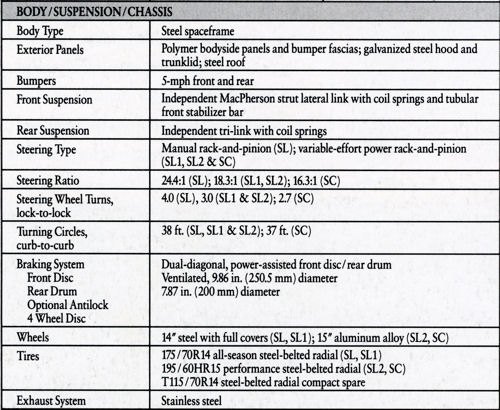 Shown above are the body, suspension, and chassis specifications for Saturn's 1991 sedans (SL, SL1, SL2) and coupe (SC). They were all built off of Saturn's so-called "Z" platform, which was essentially a compact front-wheel-drive steel spaceframe chassis. The full spec sheet is posted in the photo gallery.
Random Article from the SaturnFans.com Archives
Tags:
Saturn is unique in the way it values the opinions of its customers. A few months ago, the company polled some owners and fans, asking them for help naming seven new colors that it plans to make available on its cars and crossover trucks during the 2009 model year. Saturn carefully reviewed all of the suggestions that were submitted and chose the names it felt best represented the brand's image.