1991 Vehicle Specifications
Tags: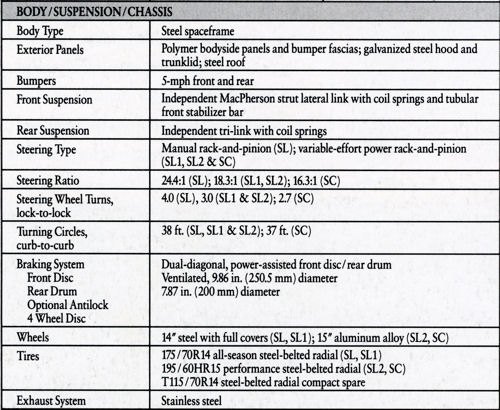 Shown above are the body, suspension, and chassis specifications for Saturn's 1991 sedans (SL, SL1, SL2) and coupe (SC). They were all built off of Saturn's so-called "Z" platform, which was essentially a compact front-wheel-drive steel spaceframe chassis. The full spec sheet is posted in the photo gallery.
Random Article from the SaturnFans.com Archives
Tags:
Saturn's early television and print ads were quirky, offbeat spots that often focused more on the emotional side of owning a car, rather than talking about latest models from Saturn. But in a clever, indirect, and very effective manner those first ads were very much all about Saturn, and how owning a Saturn could make you feel. Take this commercial that aired in or around 1992.