1991 Vehicle Specifications
Tags: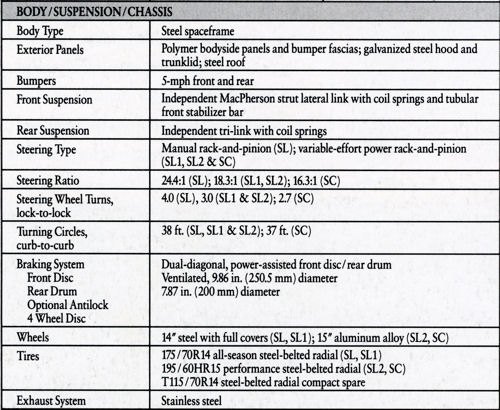 Shown above are the body, suspension, and chassis specifications for Saturn's 1991 sedans (SL, SL1, SL2) and coupe (SC). They were all built off of Saturn's so-called "Z" platform, which was essentially a compact front-wheel-drive steel spaceframe chassis. The full spec sheet is posted in the photo gallery.
Random Article from the SaturnFans.com Archives
Tags:

General Motors is reportedly gearing up to auction off "about 100 of its prized antique and show cars to raise cash and trim warehousing costs," according to a story in Sunday's Los Angeles Times. A check of the Barrett-Jackson website shows three historic Saturn vehicles going on the block this Thursday.