1991 Vehicle Specifications
Tags: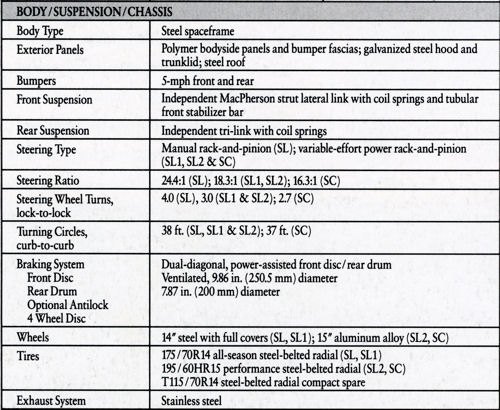 Shown above are the body, suspension, and chassis specifications for Saturn's 1991 sedans (SL, SL1, SL2) and coupe (SC). They were all built off of Saturn's so-called "Z" platform, which was essentially a compact front-wheel-drive steel spaceframe chassis. The full spec sheet is posted in the photo gallery.
Random Article from the SaturnFans.com Archives
SaturnFans.com has learned from several reliable sources that Saturn will discontinue its Vehicle Exchange Program (VEP) on December 31, 2008 in an effort to cut costs and help create a more profitable business model for the company in the future. The program will reportedly continue to be offered on new Saturn vehicles sold and delivered through the end of the month.