1991 Vehicle Specifications
Tags: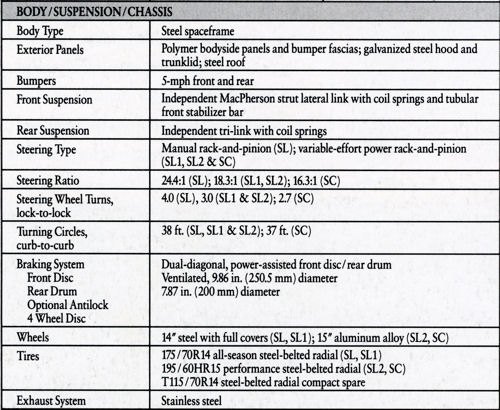 Shown above are the body, suspension, and chassis specifications for Saturn's 1991 sedans (SL, SL1, SL2) and coupe (SC). They were all built off of Saturn's so-called "Z" platform, which was essentially a compact front-wheel-drive steel spaceframe chassis. The full spec sheet is posted in the photo gallery.
Random Article from the SaturnFans.com Archives
Tags:
Mark Vaughn from AutoWeek: More than 200 cars from GM's Heritage Fleet went on the block in what GM called normal housekeeping. Note that's the Heritage Fleet, which is different from the Heritage Collection. The latter has about 350 cars. "The Heritage Collection is sacred, a critical part of the history of GM," said Brian Baker, collection manager and design historian.