1991 Vehicle Specifications
Tags: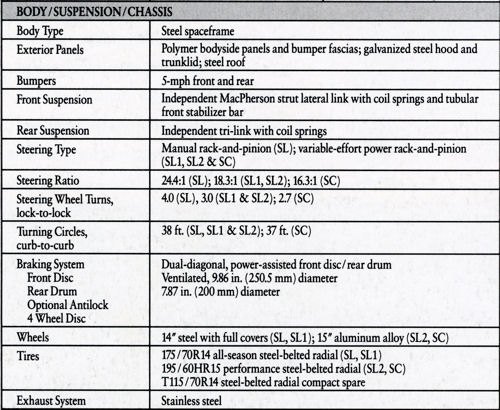 Shown above are the body, suspension, and chassis specifications for Saturn's 1991 sedans (SL, SL1, SL2) and coupe (SC). They were all built off of Saturn's so-called "Z" platform, which was essentially a compact front-wheel-drive steel spaceframe chassis. The full spec sheet is posted in the photo gallery.
Random Article from the SaturnFans.com Archives
Following discussions during ongoing contract bargaining with the CAW, General Motors of Canada recently announced the Windsor Transmission plant will cease operation in the second quarter of 2010. This is when current 4-speed front wheel drive transmission production mandates are completed.