1991 Vehicle Specifications
Tags: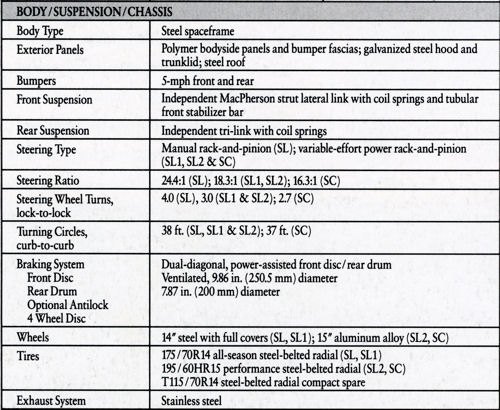 Shown above are the body, suspension, and chassis specifications for Saturn's 1991 sedans (SL, SL1, SL2) and coupe (SC). They were all built off of Saturn's so-called "Z" platform, which was essentially a compact front-wheel-drive steel spaceframe chassis. The full spec sheet is posted in the photo gallery.
Random Article from the SaturnFans.com Archives
Tags:
Saturn offers an impressive line of vehicles that feature a refreshing blend of performance, economy, durability, and safety... a combination not often found in other cars in its price class - and sometimes even in cars costing lots more. On this page you'll find just a few things that this enthusiast feels differentiates Saturn from its competition.