1991 Vehicle Specifications
Tags: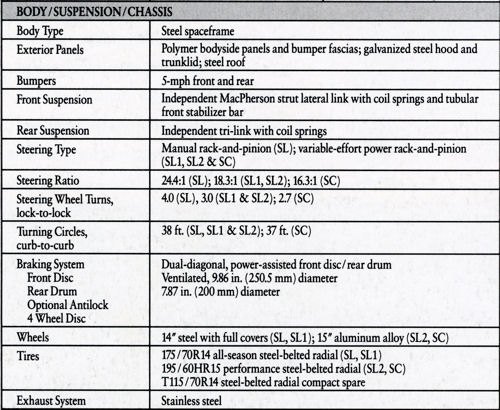 Shown above are the body, suspension, and chassis specifications for Saturn's 1991 sedans (SL, SL1, SL2) and coupe (SC). They were all built off of Saturn's so-called "Z" platform, which was essentially a compact front-wheel-drive steel spaceframe chassis. The full spec sheet is posted in the photo gallery.
Random Article from the SaturnFans.com Archives
The Chicago Tribune reports that General Motors has confirmed rumors surrounding the company's plans for a hybrid version of the upcoming Saturn Aura. SaturnFans.com has been reporting about a hybrid Saturn midsize car for quite awhile, but it is believed that this is the first time that a GM executive has publicly spoken about it.