1991 Vehicle Specifications
Tags: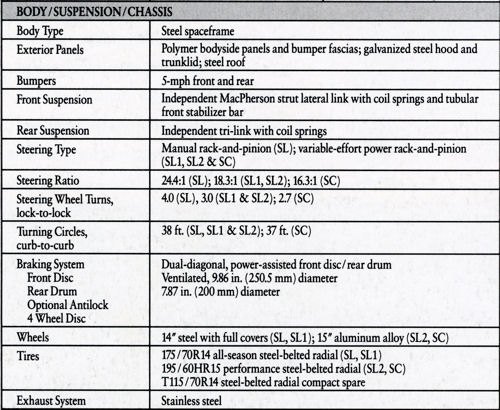 Shown above are the body, suspension, and chassis specifications for Saturn's 1991 sedans (SL, SL1, SL2) and coupe (SC). They were all built off of Saturn's so-called "Z" platform, which was essentially a compact front-wheel-drive steel spaceframe chassis. The full spec sheet is posted in the photo gallery.
Random Article from the SaturnFans.com Archives
Tags:
In a news brief today, GM confirmed that there a several buyers interested in purchasing Saturn. While no specific names were mentioned, the company anticipates a sale to be made by the end of the year. The company advising the sale of the brand is S.J. Girsky & Co. Speculations abound as to which parties are interested in purchasing the brand. Last month, Black Oak Partners, based in Oklahoma City, confirmed it's interest in purchasing the brand. Rumors speculate throughout the media that the company is also looking for potential buyers in foreign markets such as China and India. Both countries are eager to gain market share in the United Sates.