1991 Vehicle Specifications
Tags: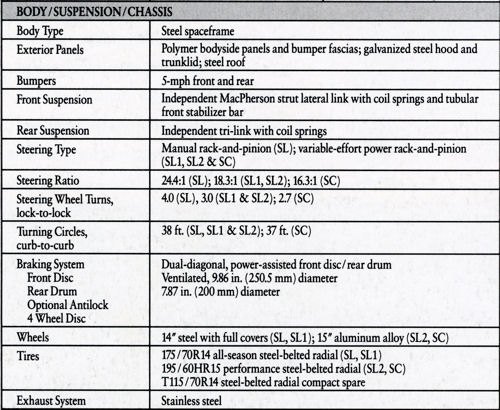 Shown above are the body, suspension, and chassis specifications for Saturn's 1991 sedans (SL, SL1, SL2) and coupe (SC). They were all built off of Saturn's so-called "Z" platform, which was essentially a compact front-wheel-drive steel spaceframe chassis. The full spec sheet is posted in the photo gallery.
Random Article from the SaturnFans.com Archives
Saturn today released the first visual rendering of its upcoming sports roadster and announced that the two-seater will carry the name Sky. The rear-wheel drive Sky will showcase new design cues that will appear across Saturn's future products as the brand renews and extends its portfolio over the next 24 months.