1991 Vehicle Specifications
Tags: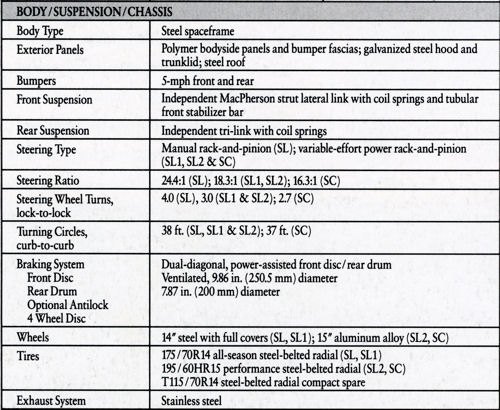 Shown above are the body, suspension, and chassis specifications for Saturn's 1991 sedans (SL, SL1, SL2) and coupe (SC). They were all built off of Saturn's so-called "Z" platform, which was essentially a compact front-wheel-drive steel spaceframe chassis. The full spec sheet is posted in the photo gallery.
Random Article from the SaturnFans.com Archives
Tags:

Rock star Jon Bon Jovi, in front of a 2008 Saturn Outlook, on Maryland Street near the site where his Philadelphia Soul Charitable Foundation is teaming up with the Saturn Hands on Homes program and Habitat for Humanity to build five news houses in Detroit, Michigan this past Monday. Five families should be in their new homes by the holidays.