1991 Vehicle Specifications
Tags: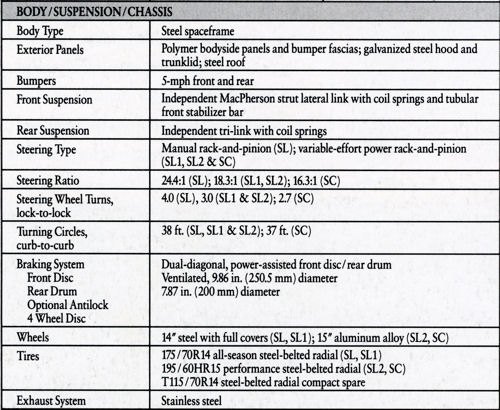 Shown above are the body, suspension, and chassis specifications for Saturn's 1991 sedans (SL, SL1, SL2) and coupe (SC). They were all built off of Saturn's so-called "Z" platform, which was essentially a compact front-wheel-drive steel spaceframe chassis. The full spec sheet is posted in the photo gallery.
Random Article from the SaturnFans.com Archives
Tags:
The Saturn Collection online store is responding to the recent unfortunate announcement about the closure of Saturn by slashing its prices by up to 80%. Powertex Group, based in Eau Claire, Wisconsin, is the current sole producer and reseller of Officially Licensed Saturn products. They have reacted by slashing prices at its Saturn Collection online store.