1991 Vehicle Specifications
Tags: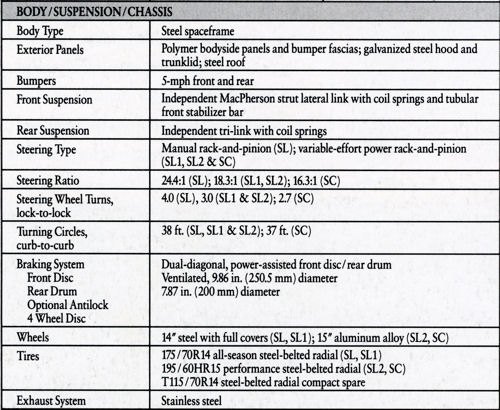 Shown above are the body, suspension, and chassis specifications for Saturn's 1991 sedans (SL, SL1, SL2) and coupe (SC). They were all built off of Saturn's so-called "Z" platform, which was essentially a compact front-wheel-drive steel spaceframe chassis. The full spec sheet is posted in the photo gallery.
Random Article from the SaturnFans.com Archives
Tags:
Admittedly, I wasn't a big fan of the Transformers afternoon cartoon series or the popular action figures as a kid. In the 1980s I was more interested watching KITT pull high-tech stunts on NBC's Knight Rider.  That's all changing now with the making of Michael Bay's sequel to the 2007 blockbuster "Transformers" movie. Why? It looks like the Saturn Astra will have a starring role in the film.