1991 Vehicle Specifications
Tags: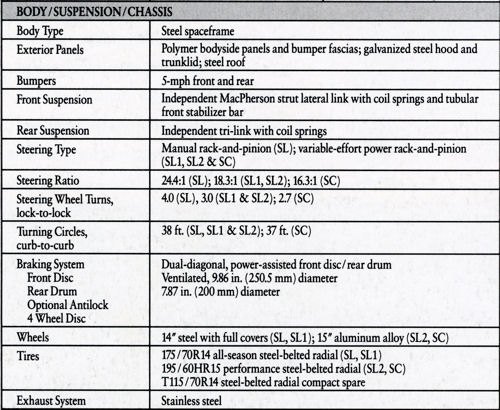 Shown above are the body, suspension, and chassis specifications for Saturn's 1991 sedans (SL, SL1, SL2) and coupe (SC). They were all built off of Saturn's so-called "Z" platform, which was essentially a compact front-wheel-drive steel spaceframe chassis. The full spec sheet is posted in the photo gallery.
Random Article from the SaturnFans.com Archives
Saturn is offering 16 contestants from the River Days audience will be selected for the opportunity to prove just how much they love Jon Bon Jovi, by kissing the Saturn Astra. Contestants who compete in the car-kissing marathon will compete for a chance to win. All who participate will win tickets to Bon Jovi's July 7 concert at the Palace of Auburn Hills, and the winner will receive two passes to go backstage before the concert. The goal is to help raise awareness and donations for Habitat for Humanity projects in the Detroit area.