1991 Vehicle Specifications
Tags: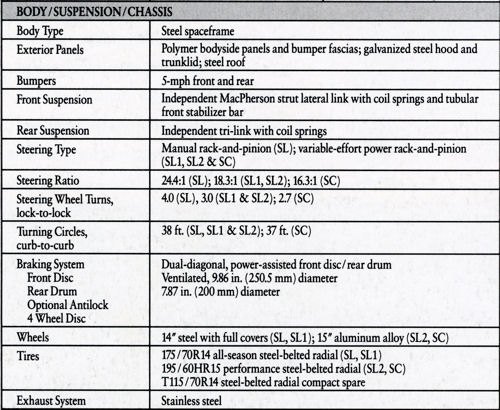 Shown above are the body, suspension, and chassis specifications for Saturn's 1991 sedans (SL, SL1, SL2) and coupe (SC). They were all built off of Saturn's so-called "Z" platform, which was essentially a compact front-wheel-drive steel spaceframe chassis. The full spec sheet is posted in the photo gallery.
Random Article from the SaturnFans.com Archives
Tags:
Earlier this week, Marty Hogan, Saturn Vue 2-Mode Hybrid chief engineer posted an interesting story over at ImSaturn.com about the brake system that was developed for the dual-mode Vue. "The 2009 Vue 2 Mode Hybrid will be equipped with an advanced brake system that stops or slows the vehicle using traditional friction braking, regenerative braking, or any mixture in between," he wrote.