Penske Envisions Saturn as a Global Motors, Says Electric Models May be "First Vehicles Produced in the U.S." Under Agreement
Michelle Krebs from Edmunds Auto Observer: In light of the U.S. government's emphasis on available funding for alternative-powered vehicles, Penske said "electric vehicles will be right at the forefront" and "might be the first vehicles produced in the U.S." under this new Saturn arrangement with foreign partners. A former racecar driver and still a race-team owner, Penske said performance, which Saturn tried to highlight with its Red Line models, will take a backseat for now. "We need to be focused on the core volume before we become a specialty house. We need to generate volume," he said, noting that Saturn's volume has fallen to less than 100,000 vehicles sold annually. "We need to get back to a 150,000-200,000 run rate. Then we'll look at specialty items. "Performance is close to my heart and adds value to attract certain customers," he continued. "But first we have to be sure the customer base is satisfied with low-cost and efficient models."
Random Article from the SaturnFans.com Archives
Tags: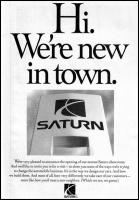 Back in the early 1990's Saturn was still building out its retail network and when new stores opened, they often ran advertisements like the one above in local area newspapers. This particular ad was printed inside the pages of a newspaper in New Jersey on June 25, 1993 to announce the opening of Saturn of Toms River.