"Off-Roading" in the Outlook
Tags: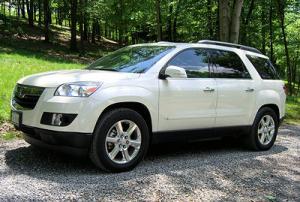 Well, off-roading might be a bit of a stretch. We were in Ohio this past weekend for my sister's wedding, and visited some relatives who were staying at a nearby campground. Some of the RV sites were only accessible via short gravel spurs off the main paved loop at the resort. So technically we did go off road, but admittedly we probably didn't go much over 10 miles per hour...
Anyway, things on the front page of the site screeched to a halt early last week as I spent extra long days (and some nights) at work finishing up a big project that had to be completed before we could leave for a long weekend away with family.
I'll be posting a full report on how the Outlook handled the trip – along with some highlights from it's first 7000 miles in the SaturnFans.com garage – within the next few days. For now, I've got to catch up on what I've missed in the forums, respond to some more email, and start posting daily Saturn updates again. It feels good to be back!
Random Article from the SaturnFans.com Archives
The fascinating contrast between a luxurious, classy look and solid, muscular details also abounds in the interior of the Opel Antara GTC. Warm tones and the generous use of leather are caught up in a charming interplay with technical materials like carbon fiber (seat back), stainless steel and aluminum (cockpit).