How Many of You Put Bug Shields on the Front of Your Outlook?
Tags: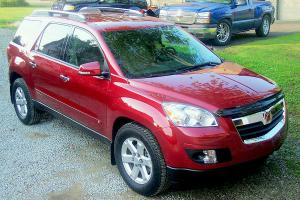 I was curious how many of you put these on your SUV? I just installed a genuine GM bug shield, specifically made for the Saturn Outlook, and it looks very nice. I did have to drill two 1/16" holes in the underside of the hood for two screws, but the rest of it is held on by 3M two-sided tape. It was a very neat fit, and not very hard to install. Drilling holes in a new car does give me the willies though! But I got through it with no permanent brain damage!
Random Article from the SaturnFans.com Archives
Yesterday General Motors announced a series of initiatives designed to jumpstart June sales of its 2008 models, and grow volume in certain key segments of the marketplace. To boost sales, the company plans a "72 Hour Sale" with 0% financing and cash back opportunities on "over 80%" of its vehicles, according to Automotive News.