Delivering Joy this Holiday Season
Tags: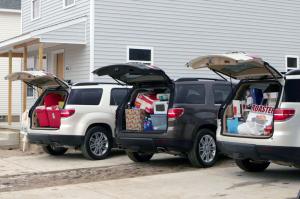 Three Saturn Outlook vehicles filled with Saturn retailer and public donated housewarming gifts are parked in front of five new houses built by the Saturn Hands on Homes program in Detroit, Michigan last week. The Saturn Hands on Homes program is a cooperative effort by General Motors' Saturn division, Detroit area-Saturn retailers, Habitat for Humanity Detroit and Jon Bon Jovi's Philadelphia Soul Foundation.
Click here to view larger copies of the photo.
Random Article from the SaturnFans.com Archives
Tags:
Over the years, one of Saturn's most impressive features was their innovative plastic polymer body panels that it used to cloth it's cars in. The panels resisted damage from small dents, dings, and minor bumps — they proved to be very popular among Saturn owners. The panels simply absorbed the impact, and bounced back into their original form. Back in the day, if you went to your local Saturn retailer, the sales folks would eagerly show you how well the panels worked by either pounding on the side of a car with their fists, or by inviting you to jump up and down on a sample door panel laying on the floor. No matter how hard you tried, the panels always went back to their original shape.