Could Saturn be Integrated into Buick-Pontiac-GMC?
From All Cars All the Time: If GM were to pair Saturn with BPG, it is my belief that Saturn would aim for smaller vehicles. Corsa, Meriva, and Astra are names that come to mind when looking over Opel's lineup. Now you might argue that the Astra hasn't done very well here in the States, however I maintain that it isn't so much the car's fault as it was a hurried, low cost effort to bring it here and a scant marketing budget once the car arrived. When I test drove the Astra for a week, only one person had a vague idea of what it was, but everyone who saw it, liked it. If the Astra were custom fitted to American tastes and displayed on more numerous BPG dealership lots, it were fair much better. Think of it this way, does it makes sense to have a Cobalt knockoff Pontiac G5 or a Saturn exclusive Astra? Why compete directly with the Chevrolet dealer next door? The underpinnings of the current Cobalt and Astra are similar, but they a very different vehicles. That kind of differentiation makes sense to me.
Random Article from the SaturnFans.com Archives
Tags: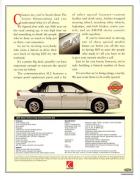 Pictured is the back page of the Saturn brochure printed to tout the 1994 Saturn Homecoming Commemorative Sedan. Saturn built a limited number of these special pearl white SL2 sedans to commemorate the brand's first homecoming celebration held at the Saturn plant in Spring Hill, Tennessee. The MSRP for the Homecoming SL2 was $15,650.