Next-Gen Ion Styling is... a 'Home Run'
GM Vice Chairman of global product development, Bob Lutz, recently talked with Motor Trend magazine about the Pontiac Solstice and Saturn Sky. Part of the discussion touched on GM's use of consumer clinics to judge upcoming future car designs. "We're dialing back on clinics when styling is a home run," Mr. Lutz told Motor Trend in their October 2005 issue. "The only time we're going to do clinics is when we do something far-out. We want to make sure we're not talking to ourselves. We're not going to clinic the next-generation Saturn Ion because everybody who comes into the studio and says, 'Holy mackerel!'"
Sources tell SaturnFans.com that the next Ion's styling will borrow heavily from the Aura and Opel Astra concepts.
Source: Motor Trend
Random Article from the SaturnFans.com Archives
Tags: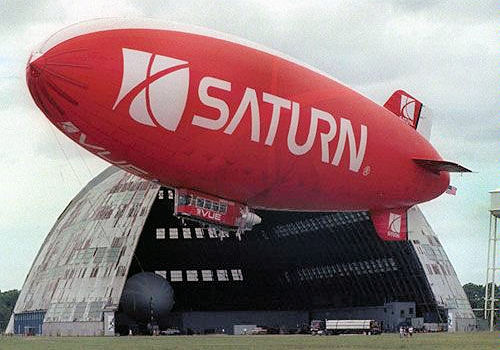 Saturn Corporation was the first North American auto manufacturer to utilize aerial advertising when the Saturn Lightship made its debut in the summer of 2001. The Saturn Lightship, a 165-foot, 6,335-pound A150 blimp, traveled across the United States supporting a variety of events and promotions held to promote the launch of the company's first sport utility vehicle, the Saturn Vue.