Flashback Friday: The Last Saturn Ion
Tags: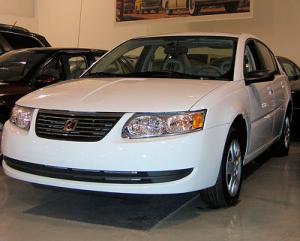 You don't have to think too far back to remember when the subject of this week's "Flashback Friday" was built. While the anniversary of the first Saturn to roll off the assembly line in Spring Hill, Tennessee is next week, I thought that this week it would be fitting to feature the last Saturn ever built at that plant.
According to SaturnFans.com's records, this white Saturn Ion four-door sedan was built on March 29th, 2007. It is currently on display at General Motors Heritage Museum in Detroit, Michigan. Jenny King, a free lance writer and photographer, wrote a great article about the museum for the Detroit News Joyrides last Saturday. She was kind enough to submit the picture she took of the 2007 white, polymer-clad Saturn to SaturnFans.com earlier this week. Click here for a full-size copy of the image.
Random Article from the SaturnFans.com Archives

Last week, on June 11th to be more specific, Saturn once again "took over" the front page of Yahoo.com with an impressive, interactive advertisement promoting its 2008 lineup. Saturn's digital ads on Yahoo have evolved over the past few months, and this particular one is the best by far.