GM Throws Lifeline to Flailing Saturn Brand, Admits It Didn't Spend Enough On Marketing New Models
Tags:

Jean Halliday from Advertising Age: General Motors is working behind the scenes to save Saturn. The automaker is working with dealers to keep Saturn in the GM orbit. It hopes to have an action plan ready within 30 days, said Fernando Somoza and Todd Ingersoll, two dealers on the brand's Franchise Operating Team. Neither dealer gave any details of options that are on the table, although Mr. Somoza said one proposal being studied "will have global implications." One consideration is finding a non-GM carmaker from abroad to distribute cars via Saturn's 400-plus dealers here, said an executive close to the matter. GM is trying to find buyers for Saab and Hummer and plans to pare Pontiac's model lineup as part of its restructuring plan to qualify for federal loans. But now Saturn is getting "more of an internal review" as opposed to a sale, said Mark LaNeve, GM VP marketing, sales and service in North America. Because of the way GM set up Saturn as a wholly owned subsidiary, the business "has more options" than the automaker's other vehicle brands, the spokesman said. Mr. LaNeve conceded that GM "didn't spend enough on marketing to introduce the new products."
Random Article from the SaturnFans.com Archives
Tags: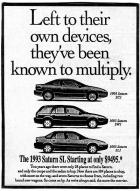 This folksy Saturn newspaper advertisement was one of many used to promote Saturn's newly expanded 1993 model year lineup of S-Series vehicles. The ad featured many of Saturn's classic advertising elements from that time period, including a catchy headline, a prominent photo, and a few clever sentences written to make the reader feel right at home with Saturn. "Left to their own devices, they've been known to multiply," read the main heading of the text.