GM Recall and NHTSA Investigation Recap
There's a lot of confusion and misinformation posted on the Internet about the recent General Motors recalls and ongoing Federal investigations. As Saturn owners, there are three pieces of this puzzle that are critically important to us.
If you aren't sure if your Saturn has been recalled, you can search the GM Recall database. In addition, GMBeat.com is continuously updated 24x7 with the latest developments associated with GM's recalls and how they pertain to Saturn. In addition, we'll be sure to post the latest information on the SaturnFans.com home page as the situation develops.
Random Article from the SaturnFans.com Archives
Tags: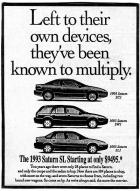 This folksy Saturn newspaper advertisement was one of many used to promote Saturn's newly expanded 1993 model year lineup of S-Series vehicles. The ad featured many of Saturn's classic advertising elements from that time period, including a catchy headline, a prominent photo, and a few clever sentences written to make the reader feel right at home with Saturn. "Left to their own devices, they've been known to multiply," read the main heading of the text.