Flashback Friday: 1980s Clay Saturn Concepts
Tags: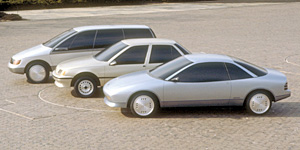 Some interesting artifacts from the past are being resurrected in preparation for GM's 100th anniversary celebration next month. This image from the General Motors archives reportedly shows three different Saturn clay models on display at the GM Tech Center in Warren, Michigan sometime in 1983. Before this image was posted by the folks at GM Design, I was only aware of only one other 1980s-era Saturn prototype that had been built.
Source: GM
Random Article from the SaturnFans.com Archives
Last week, the Automobile Journalists Association of Canada (AJAC) recognized GM's Two-Mode Hybrid technology as the 2009 Best New Green Technology. The inaugural award results from AJAC's desire to recognize innovative new green technology developments in the auto industry that will be of benefit to the Canadian consumer.