EV1
Tags:
Darryl Siry from Wired: The GM EV1 was an electric vehicle that was a technical triumph for the time. It generated passion-fueled controversy that still reverberates today. The technological innovations of the EV1 went well beyond the battery pack, inverter and AC induction motor that propelled the car without using any gasoline. The lead-acid battery pack could store only 17 kilowatt-hours for the first generation, roughly equivalent to half a gallon of gasoline. As a result, GM engineers had to do everything they could to reduce the weight and aerodynamic drag of the car to achieve a workable range.

With so much attention today focused on fuel-efficient hybrids, upcoming plug-in hybrids, and extended range electric vehicles, its easy to forget about the General Motors EV1 - the world's first modern day electric car.
Random Article from the SaturnFans.com Archives
Tags: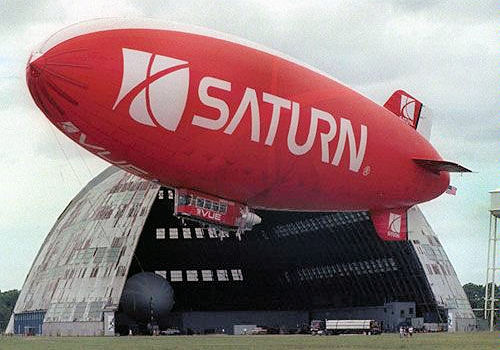 Saturn Corporation was the first North American auto manufacturer to utilize aerial advertising when the Saturn Lightship made its debut in the summer of 2001. The Saturn Lightship, a 165-foot, 6,335-pound A150 blimp, traveled across the United States supporting a variety of events and promotions held to promote the launch of the company's first sport utility vehicle, the Saturn Vue.