Flashback Friday: General Motors EV1 Electric Car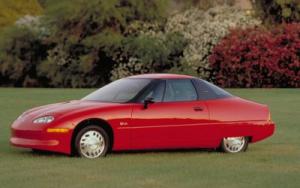 With so much attention today focused on fuel-efficient hybrids, upcoming plug-in hybrids, and extended range electric vehicles, its easy to forget about the General Motors EV1 - the world's first modern day electric car. On January 4th 1996, General Motors announced at the Greater Los Angeles Auto Show it would build the slippery, two-seat electric vehicle. The company also said the car would be marketed by Saturn and available for lease at retailers located in and around Los Angeles, San Diego, Phoenix and Tucson. The first EV1s were shipped to Saturn stores in the fall of '96.
Source: GM
Random Article from the SaturnFans.com Archives
Tags:
Peter M. De Lorenzo from the AutoExtremist.com: The U.S. Senate late last night voted against passage of a bill to give an emergency bridge loan to the Detroit automakers – specifically GM and Chrysler – paving the way for the eventual collapse of the domestic automobile industry and sending this country's already teetering financial situation to the brink of disaster.