Flashback Friday: 2000 Saturn CV1 Concept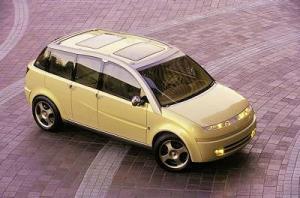 The CV1 - so named because it was Saturn's first real concept vehicle - explored new vehicle packaging and design features, many of which would end up playing an important role as Saturn grew its product lineup. Notable features found on the CV1 that eventually made it into production on other Saturn vehicles were the center-mounted instrument cluster (Ion), continuously variable transmission (Ion and Vue), flat-folding passenger seat (Vue), all-wheel-drive (Vue and Outlook), and LED tail-lights (Aura).
Saturn called the CV1 a multi-functional vehicle with a space efficient five plus two seating configuration. "The Saturn concept vehicle transcends traditional vehicle categories, incorporating characteristics of a sedan, minivan and sport-utility vehicle in an extremely efficient package," said Kate Zak, Saturn brand character design manager. At 177 inches in length, the CV1 was 1.1 inches shorter than the Saturn SL compact sedan. While its size made the CV1 easy to maneuver and park, the efficient and reconfigurable design provided maximum versatility to help meet the daily, changing needs of customers. The five plus two seating configuration enabled a customer to transport up to five adults and two children. Alternately, when cargo carrying is the priority, all the seats except the driver's seat could be folded flat. The three-passenger rear seat moved rearward to provide additional legroom or forward to maximize cargo space. The split-bench rear seat and the front passenger seat also folded flat to provide an impressive 85 cubic feet of cargo-carrying capability. The CV1 concept was powered by a 2.2L four-cylinder engine.
Click here for more photos of the CV1.
Random Article from the SaturnFans.com Archives
Tags:
Jalopnik.com reports General Motors will auction off a number of vehicles from its vaunted Heritage Center museum collection in an effort to raise cash to help offset the huge losses the company is faced with due to the global financial crisis. There are about 1000 vehicles of historical significance in storage that GM uses for the displays at the museum, but only about 150 to 200 of those vehicles can be featured at one time. On the list of vehicles to be auctioned are several notable Saturns from the past. The website says they will be sold at the upcoming Barrett-Jackson auction held January 13-19 in Scottsdale, Arizona.