2004 Saturn Curve Concept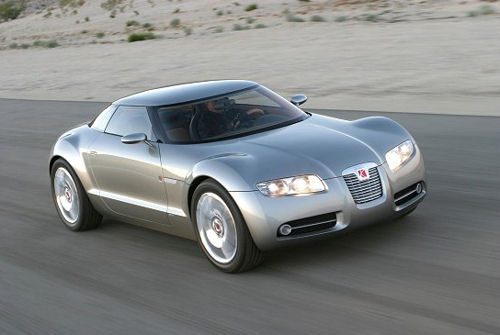 General Motors introduced the Saturn Curve concept coupe at the North American International Auto Show in January of 2004. It was one of the vehicles, including the Pontiac Solstice production model and Chevrolet Nomad concept, built on GM's new rear-wheel-drive Kappa architecture. Design creativity and implementation was a collaboration of GM's worldwide resources, driven by GM North America's Advanced Design Team and developed by GM's European Advanced Design Center in Sweden. The European design influence bolsters the Curve's aura of refinement. Final assembly was completed in Italy, with assistance from Italian coachbuilder Pininfarina.
"The Kappa architecture is a brilliant new canvas on which to design expressive vehicles," said Anthony Lo, design manager. "The Curve's contemporary style demonstrates how a great-looking coupe could look on the adaptable architecture."
Beyond the coupe styling, the Curve's shape and attention to detail tap into a growing global design ethos. "Functionality is paramount, but the look, feel and spirit of everything from napkin holders to homes is becoming increasingly more important," said Lo. "A good design adds warmth and makes you stop to say, 'hmmm...'"
The design of the Curve abounds with interesting details that emphasize its contemporary design aesthetic, as well as its sports car roots, including roof pillars that are concealed by a wraparound canopy of glass - creating the look of a "floating" roof panel. Also, a front-hinged, clamshell hood is complemented by a rear-hinged trunk lid. The forward-opening hood is a nod to great sports cars of the past, while the opposite-opening trunk lid creates interesting design symmetry when both panels are in the up position. The vehicle is coated in Mission Silver, a warm color chosen for its liquid metal appearance.
Relaxed Mood
Inside, an open-gate shifter and analog instruments evoke the feel of a pure sports car, while the interior environment is warmed and enhanced with "floating" door inserts that feature color-changing backlighting. This unique lighting effect transmits a subdued mood throughout the vehicle and is the type of innovative feature at home in a Saturn.
"Altogether, the Curve has a very sophisticated and relaxed feel," said Shuichi Yamashita, lead exterior designer. "It's still a fun-to-drive sports car, but the selection of color, materials and lighting convey maturity and sophistication."
The Curve's interior is consistent with the level of workmanship and refinement that will characterize future Saturn models, including the upcoming RELAY crossover sport van. A curved wood center console is the interior's dominant feature and is attached to the dashboard via a tongue-and-groove joint. It also encapsulates the engine instruments. Blonde wood is used to convey lightness and airiness, while charcoal-colored leather and terracotta inserts accent the dashboard and upholstery. An aluminum band running the width of the interior serves as a divider for the interior's different elements. A matching aluminum handle greets those who open the Curve's doors, inviting them to plunge into a warm environment that reflects the friendly nature of the Saturn brand.
Like the front seats, the rear seats consist of a pair of buckets covered in charcoal leather with terracotta inserts. Entering the rear seats is easy, thanks to front seats that tilt to add entry space. The back-lit glow that permeates the interior affects mood in the Curve's interior, but also has a safety use: When the doors are opened, the lighting on the door panels changes to an orange-red hue to act as a warning light, eliminating the need for a reflector.
Dynamic Performer
Despite its relaxed demeanor inside, the Curve delivers a stirring sports car experience. Built on GM's new Kappa architecture, this sport coupe features rear-wheel drive, independent front and rear suspensions, and a solid chassis built on the foundation of full-length hydroformed frame rails. Stampings attached to the rails form a rigid structure onto which the body panels are mounted.
Sports car performance is derived from a supercharged 2.2-liter Ecotec four-cylinder engine that produces more than 200 horsepower and more than 200 lb.-ft. of torque. The engine features fuel-saving variable valve timing technology, which is available on some of GM's four-, five- and six-cylinder engines. Through the use of variable engine valve timing, lift and duration can improve fuel economy, emissions and performance. The transmission is a Getrag five-speed manual. The engine and transmission are similar to the powerful combination found in the new 2004 Saturn Ion Red Line.
Unique seven-spoke, outboard-style 20-inch wheels are mounted to performance tires and fitted to the Curve's responsive chassis. Large, 14-inch brake rotors, with twin-piston front calipers and large, single-piston rear calipers, provide the vehicle's stopping power. The powertrain, chassis and brake system are based on existing production components.
"As much as the Curve is a driver's car, it's also a reflection of the mindset of the driver," said Nicho Vardis, lead interior designer. "As people spend more time in their vehicles, a warm, personal environment becomes more important. A car like the Curve, which is both functional and thoughtfully designed, provides that environment."
Click here for photos of the Saturn Curve.
Source: General Motors
This article was originally published on SaturnFans.com on July 4, 2004.
Random Article from the SaturnFans.com Archives
General Motors and OnStar today launched "Stolen Vehicle Slowdown" on model year 2009 GM vehicles in the US and Canada. Stolen Vehicle Slowdown is the latest enhancement to OnStar's Stolen Vehicle Assistance service and enables OnStar to further help law enforcement in the recovery of subscribers' stolen vehicles, while helping to reduce fatalities and injuries resulting from police chases. Working with law enforcement and utilizing its unique built-in technology, OnStar can remotely send a signal that interacts with the vehicle's engine, gradually slowing it down, aiding in a safe recovery.