Saturnized Corsa on the Horizon?
Rumors of the subcompact Opel Corsa coming stateside to join Saturn's lineup have been circulating for long time. The idea became a matter of when – not if – in October 2006 when GM vice chairman Bob Lutz told Automotive News that the company does indeed plan to sell a version of the next-generation Corsa in the United States.
Now it appears we may have some new information from the North American International Auto Show (NAIAS) indicating that the Corsa could be even closer to landing in Saturn showrooms.
The folks from LeftlaneNews.com published a story earlier this week describing a series of events that occurred as the show began, that when pieced together, strongly suggest a Saturn version of the Corsa is well on its way.
"While the fact that the Corsa was shown at the Detroit show might not sound like a big deal, the way it was shown was," wrote Leftlane. "The Corsa was the only representative of a foreign GM brand and was shown among production cars and concepts heading to production – hinting that the Corsa might soon moonlight under the Saturn brand."
One Saturn official told the online auto publication the Corsa would play in a market segment "that Saturn would like to be a part of."
When asked by LeftLane why the Corsa was at the show and if it might be a future model, another Saturn rep reportedly smiled and replied, "no comment."
The Corsa would give Saturn an immediate entry to battle cars like the Mini Cooper and Honda Fit, but Leftlane doesn't expect the Saturn Corsa to debut this auto show season. "While it remains unclear if the Corsa has been given the green light at this point – although we believe it has – expect an announcement within the next year on the possible future Saturn model." Maybe NAIAS '09?
Source: LeftlaneNews.com
Random Article from the SaturnFans.com Archives
Tags: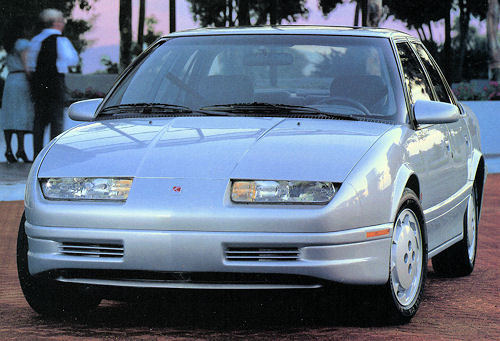 Sometimes its fun to pause for a moment at take a look back at how much things cost years ago. Take for instance Saturn's 1991 lineup, when base SL sedan was sold for less than $8000! The SL2, shown above, could be purchased for just over $10,000. Note the simplicity of the option sheet, along with the available anti-lock braking system (ABS) and unavailable airbags.