Chevrolet Targeted Orphaned Saturn Owners with Summer-Long 'Total Confidence Pricing'
Tags: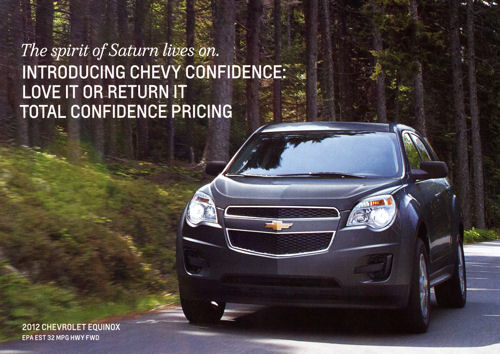 Over the summer I received a pamphlet in the mail from Chevrolet touting their summer-long "Chevrolet Total Confidence" pricing promotion. The cover of the mailing immediately caught my eye with the italicized words reading "the spirit of Saturn lives on." Unfortunately, the promotion was just that, a promotion. After initially hearing about the campaign, I thought perhaps GM was fundamentally changing the way is was going to market and sell Chevys. But instead, the promotion ended rather unceremoniously after Labor Day. Its too bad, because I think between their formidable vehicle lineup and a long-term adoption of Saturn's proven retail practices, Chevrolet would be tough to beat.
See the rest of the pamphlet below.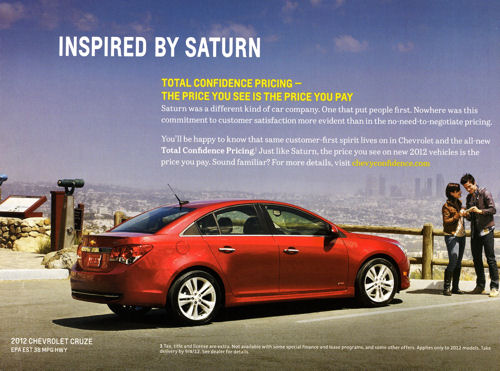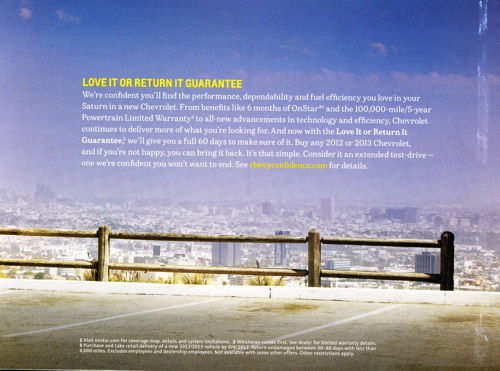 Random Article from the SaturnFans.com Archives
Tags:
Associated Press: A $14 billion emergency bailout for U.S. automakers collapsed in the Senate Thursday night after the United Auto Workers refused to accede to Republican demands for swift wage cuts. The collapse came after bipartisan talks on the auto rescue broke down over GOP demands that the UAW union agree to steep wage cuts by 2009 to bring their pay into line with Japanese carmakers.