Chevrolet Targeted Orphaned Saturn Owners with Summer-Long 'Total Confidence Pricing'
Tags: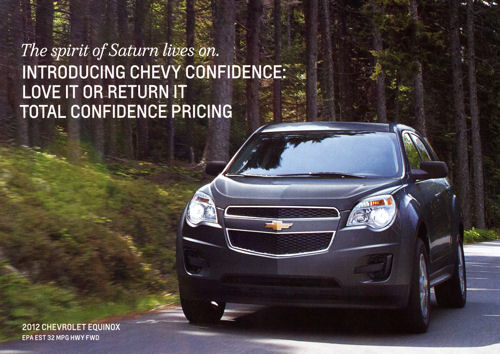 Over the summer I received a pamphlet in the mail from Chevrolet touting their summer-long "Chevrolet Total Confidence" pricing promotion. The cover of the mailing immediately caught my eye with the italicized words reading "the spirit of Saturn lives on." Unfortunately, the promotion was just that, a promotion. After initially hearing about the campaign, I thought perhaps GM was fundamentally changing the way is was going to market and sell Chevys. But instead, the promotion ended rather unceremoniously after Labor Day. Its too bad, because I think between their formidable vehicle lineup and a long-term adoption of Saturn's proven retail practices, Chevrolet would be tough to beat.
See the rest of the pamphlet below.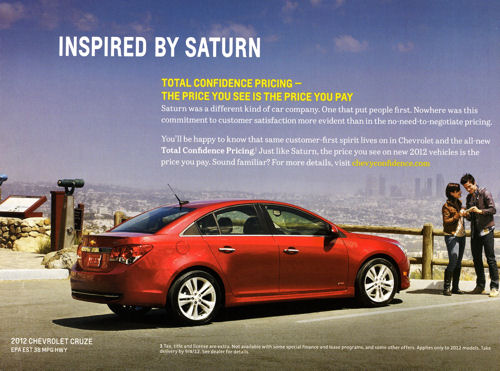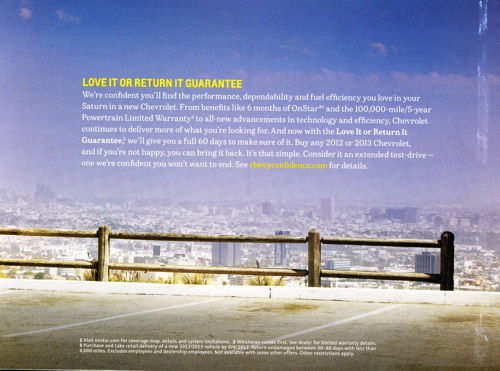 Random Article from the SaturnFans.com Archives
Tags:
Unprecedented discounts on the last remaining Saturns present an enticing case to anyone in the market for a new car, especially if you're a Saturn owner. Al Clapsaddle, senior sales consultant at Saturn/West in Ohio, sent me an intriguing e-mail the other day detailing the laundry list of incentives available until November 30 — some of which are over and above those that were advertised nationally at the beginning of the month.