Chevrolet Targeted Orphaned Saturn Owners with Summer-Long 'Total Confidence Pricing'
Tags: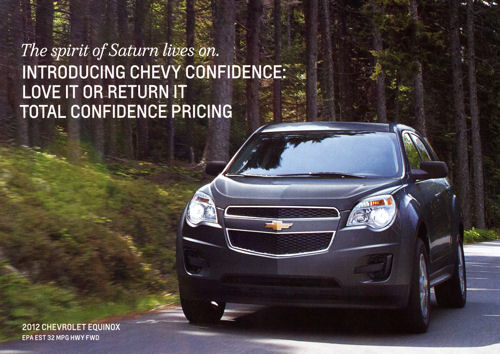 Over the summer I received a pamphlet in the mail from Chevrolet touting their summer-long "Chevrolet Total Confidence" pricing promotion. The cover of the mailing immediately caught my eye with the italicized words reading "the spirit of Saturn lives on." Unfortunately, the promotion was just that, a promotion. After initially hearing about the campaign, I thought perhaps GM was fundamentally changing the way is was going to market and sell Chevys. But instead, the promotion ended rather unceremoniously after Labor Day. Its too bad, because I think between their formidable vehicle lineup and a long-term adoption of Saturn's proven retail practices, Chevrolet would be tough to beat.
See the rest of the pamphlet below.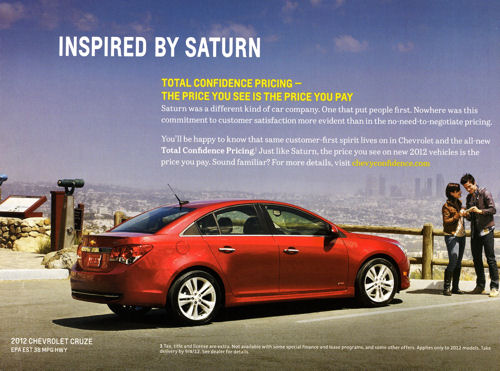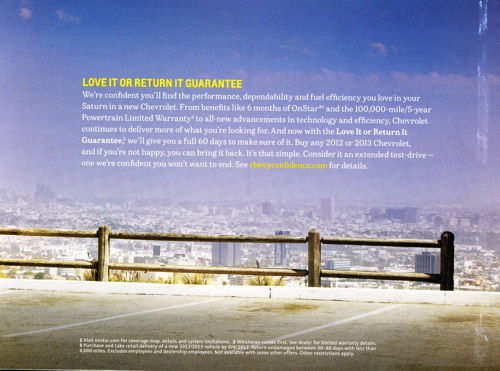 Random Article from the SaturnFans.com Archives
Catch the Saturn Hands on Homes team in action helping families build affordable, energy-efficient homes on a new episode of "Renovation Nation" this Friday, August 21st at 9pm EST. With the help of various charitable organizations, Saturn Hands on Homes is helping to rebuild some of the neglected neighborhoods of Detroit's East Side. The program coordinates funding and volunteer efforts with Saturn retailers, Habitat for Humanity, and Jon Bon Jovi's Philadelphia Soul Charitable Foundation, to construct homes using green practices and materials.