Is this the Next-Generation Aura's Interior?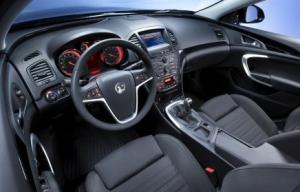 Earlier this month, Vauxhall – GM's brand name for Opel cars in the UK – released some gorgeous photos showing the interior of its upcoming Insignia midsize sedan. A U.S.-built version of the Insignia is widely believed to be the replacement the Saturn Aura in 2010-11 timeframe. "This is one hot cabin," wrote Edmunds.com's Inside Line last week. "Saturn's interior quality is about to be kicked up another notch, if the Vauxhall Insignia is any indication."
Read the Vauxhall press release below describing the new car's interior, and then click through to the SaturnFans.com photo gallery to see pictures of what we'll hopefully be seeing here soon!
These are the very first official shots of the soon-to-be-launched Insignia's interior, showing the immense attention to detail Vauxhall's designers have lavished on the car's cabin. Highlights include chronometer-inspired instruments, use of high-quality fabrics and materials, and a unique instrument lighting system.
First impression is of Insignia's bold, wrap around interior, dominated by the signature "wing" that flows from the front instrument panel and dives into the door panels. The surfaces from the exterior's "blade" feature are echoed in the shape of the interior grab handle, where the bright accent material sweeps dramatically into the door armrest.
The cabin's interior lighting gives Insignia a unique night-time appearance. Vauxhall's designers have added a warm amber-coloured ambient light to enhance the night driving environment. The instrument cluster is illuminated white, but on pressing the "Sport" button, the lighting turns red to match the surrounding illumination.
"This is a paradigm shift for Vauxhall," says John Puskar, Executive Director of Interior Design at GM Europe. "We wanted to create interior environments for all our future vehicles that are warm, inviting and sporty. The Insignia is the first evidence of this philosophy."
Cabin practicality will also raise the bar in Insignia's market sector. The centre console offers flexibility and intelligent design solutions, such as a space-liberating e-brake and separate multi-function control on certain models. Both the steering wheel and front seats have a huge range of adjustability to suit all shapes and sizes, while adjustable armrests, ergonomically placed controls, a multi-use storage box and MP3 connectivity will reinforce Insignia's appeal to private and business drivers.
"Every detail was meticulously thought through," says Jochen Werner, Insignia's Assistant Chief Interior Designer. "We even tipped the infotainment centre at a 30 degree angle to allow the centre console to flow and give the car's cabin a greater feeling of spaciousness."
Many of Insignia's interior design features will provide the DNA for future Vauxhall designs. Variations on sculptural artistry – the wing, flowing sculptural forms and a sporty dynamic environment – will be used moving forward, as Vauxhall refines and evolves its new-found design language.
Random Article from the SaturnFans.com Archives
With its four-wheel drive Antara Gran Turismo Crossover (GTC) concept vehicle, Opel demonstrates just how dynamic and athletic an SUV can actually be. With the characteristic three-door design, Opel shows a particularly sporty interpretation of an SUV and its dynamic design language in this special vehicle format.