GM Adds Third Shift at Three Plants
Tags:
General Motors will add a third shift at its Fairfax, Kansas; Ft. Wayne, Indiana; and Lansing Delta Township, Michigan plants - restoring 2,400 jobs and enabling GM to increase its manufacturing plant utilization in the U.S. The actions are the result of consolidating product built at manufacturing facilities that are, as previously announced, retooling for a new product, closing or being placed on standby capacity:
Fairfax, which builds the recently launched all-new Buick LaCrosse the popular Chevrolet Malibu and Saturn Aura, will become the exclusive builder of the Malibu when the Orion, Michigan assembly plant ends production in November. In 2010, the Orion plant will begin retooling and make history when it becomes the first U.S. plant to produce small cars to be sold in the U.S. market in 2011. The new shift at the Fairfax plant is scheduled to begin in January, 2010.
Lansing Delta Township, Michigan will add the Chevy Traverse which is currently built at the Spring Hill Assembly plant in Tennessee, which will cease production in November but remain on standby capacity. The new shift at the Lansing plant is scheduled to begin in April 2010.
These changes are in addition to GM's previous announcement that a second shift will be added at the Lordstown Complex (Ohio) in October where the popular Chevy Cobalt is built and all-new Chevy Cruze will be launched in the spring of 2010.
Ft. Wayne will add production of heavy duty pickups (Chevy Silverado and GMC Sierra) from the Pontiac, Mich. plant that will close the end of this month. The third shift is scheduled to begin in April, 2010.
These "actions enable GM to add production shifts and maximize the utilization of several of our plants," said Tim Lee, Group Vice President Manufacturing and Labor Relations. "In turn, we are better positioned to deliver the vehicles our customers' desire and put thousands of employees back to work that would have otherwise been laid off."
Source: General Motors
Random Article from the SaturnFans.com Archives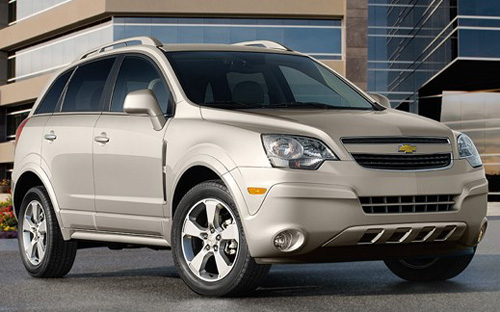 From the New York Times: Rental cars are rarely anything special. And that's just fine. All you really need from a rental is unlimited miles, long-term shelter for a few stray curly fries and a hassle-free ride from A to B and back again before those martinets at the counter charge you for an additional day. If you're driving a rental, the car itself is most likely not the point — it is merely a solution to a problem. And for many travelers over the last couple of years, the Chevrolet Captiva has been their rental car solution. The Captiva is a rare thing in the American auto market: a vehicle that isn't available to consumers but is offered only to fleet customers, including the rental car companies. You can rent one, but you cannot buy it.