CNNMoney.com Calls Saturn Aura One of June's Hottest Car Deals
Tags:
With the 2008 model year winding down, summertime car deals are beginning to ramp up. "Here are some incentive packages that we think are worth a look," wrote the CNNMoney.com in an article posted this afternoon. Just yesterday, Saturn announced a zero-percent financing offer for the Sky, Vue, and Aura. Today, the website named Saturn's Aura one of this month's "hottest" deals.
Here's what they had to say:
Voted "Car of the Year" at the 2007 Detroit Auto Show shortly after it was introduced, the Aura is truly deserving of all the accolades it's gotten. Closely related to the new Chevrolet Malibu - another "Car of the Year" winner that's now selling so well it doesn't need incentives - the Aura has a slightly sportier feel and an edgier appearance. And, GM's 0% deal could still save Aura buyers about $3,500 on a 48 month loan.
Source: CNNMoney.com
Random Article from the SaturnFans.com Archives
Tags: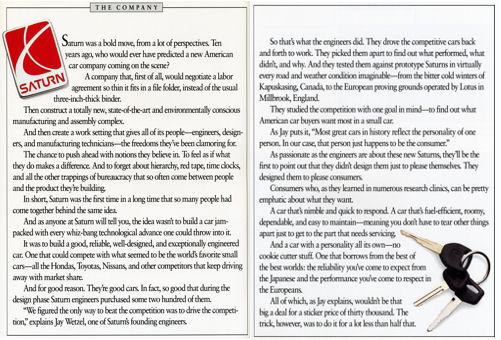 The following is an excerpt from Saturn's 1991 brochure. The first Saturn was a 1991 SL2 sedan sold on October 25, 1990.