C&D Looks at the 2010 Saturn Aura and Opel Insignia

Car and Driver takes a look at the new Opel Insignia (pictured) and Saturn Aura and discusses how the two models will lay the groundwork for a new lineup of General Motors midsize vehicles around the world. "The Opel Insignia will appear at European dealerships in late November or early December," said the magazine. "We expect the new Aura to debut as a 2010 model."
Details are emerging on the Opel Insignia, which is essentially the next-generation 2010 Saturn Aura for North America. The Insignia replaces the Vectra in the Opel lineup and will be the first model from GM's new Global Midsize Vehicle Architecture (formerly known as Epsilon), giving us a clear look at GM's future mid-size car lineup. Opel is emphatically trying to set itself apart from Japanese and Korean carmakers pushing into the market, while working to gain premium credibility. Details like the red ambient lighting in the interior and advanced technological features including adaptive headlights bring the Insignia/Aura closer to the traditional premium brands such as Audi and BMW. This is the handwriting of Carl-Peter Forster, president of GM Europe and a former BMW executive. Even the least expensive engine will be coupled to a six-speed manual transmission; automatic transmissions are six-speed as well. An adaptive chassis system called "FlexRide" will be available, and the Insignia can be equipped with an adaptive four-wheel-drive system. There will be hybrid Aura Green Lines, part of the green strategy at Saturn. We would not be surprised to see the Aura follow the Saturn Vue model in offering three types of hybrid: mild, two-mode, and plug-in.
Random Article from the SaturnFans.com Archives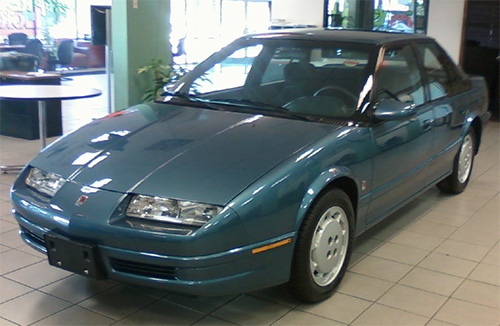 On this date in 1990, Saturn sold its first car. According to the St. Petersburg Times, the first Saturn - the blue SL2 sedan shown above - was sold just after midnight to Elaine Terry at Saturn of Clearwater. "I wanted an American-made car and decided to give it a try," Mrs. Terry told the newspaper. It was a 25th wedding anniversary present. USA Today and CNN were reportedly at the retail facility to document the event. "I kept it for 10 months and put over 5,000 miles on it. People all over the country wanted to buy the car from me. One man in Las Vegas was talking up to $100,000 for it."