2011 Buick Regal Improves on the Aura
Tags:

I went with my friend to test drive a 2011 Buick Regal. This is the car that would have been the '11 Saturn Aura. It is a beauty. I rode in it, and I consciously chose not to drive it since I was afraid it might be an expensive test drive. While I think my 2009 Aura XR 4 is a great car, the Regal is definitely a significant upgrade.
For example, its stock tires are 18" Michelin Pilots compared to the Aura's 17" Firestones. The underbody is coated with a heavy plastic undercoating - this seems to be standard on German cars. My Aura is solid and quiet, but the Regal seems to be more so. The Regal is 150 lbs heavier and its 4-cylinder engine is tuned for higher power than the Aura, which is the reason why its fuel economy is down 10% compared to my Aura.
There was some interesting information on the car's "Country of Origin" sticker:
Final assembly: Germany
Engine: United States
Transmission: China
The manufacturer's plate on the door sill reads "Opel - Russelheim Germany." Initial cars are being built in Germany. Next year, North American production will start in Ontario. My dealer seems to think he will sell the cars at list price.
Overall it was a very nice car! Needless to say, I've started using my GM credit card again.
Random Article from the SaturnFans.com Archives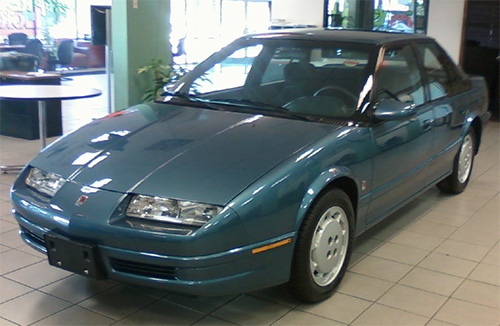 On this date in 1990, Saturn sold its first car. According to the St. Petersburg Times, the first Saturn - the blue SL2 sedan shown above - was sold just after midnight to Elaine Terry at Saturn of Clearwater. "I wanted an American-made car and decided to give it a try," Mrs. Terry told the newspaper. It was a 25th wedding anniversary present. USA Today and CNN were reportedly at the retail facility to document the event. "I kept it for 10 months and put over 5,000 miles on it. People all over the country wanted to buy the car from me. One man in Las Vegas was talking up to $100,000 for it."