2008 "ClapSaturn" Aura XE
Tags: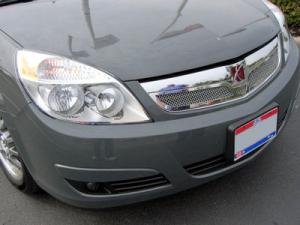 I was fortunate enough to meet up with Al Clapsaddle, sales consultant at Saturn/West, earlier this week for breakfast during a brief stop in Columbus, Ohio. I had an opportunity to get an up close look at his newly-modified 2008 Aura midsize sedan. Over the years Al has enjoyed personalizing all of his Saturns, and his '08 Aura is no different. Just like his other cars, he did a good job customizing this one too. Al added a rear decklid spoiler, front billet grill, fog lamps, new alloy wheels, and chrome trim around the Aura's windows and on the doors. Tinted windows and carbon fiber trim throughout the interior added to the sedan's sporty look. He's not completely done with the transformation, but the execution of his vision thus far gives a really good idea of what a Red Line Aura could look like. Click here for photos of his sweet ride!
Random Article from the SaturnFans.com Archives
Tags:
The Saturn Astra played a starring role on the big screen this weekend in Transformers 2. According to Edmunds.com, "a modified Saturn Astra hatch provides the getaway for Fox and LaBeouf when an alien is on their tail." We've previously seen clips of a silver Astra on the set of the movie at Princeton University, University of Pennsylvania, and in this movie trailer. Now, there's a fourth clip on YouTube that features the Astra. Have you seen the movie? Post your review, along with how you think the Astra played its part.