2008 "ClapSaturn" Aura XE
Tags: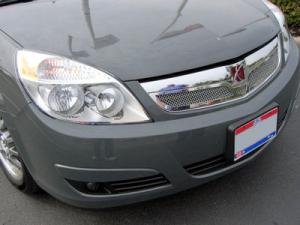 I was fortunate enough to meet up with Al Clapsaddle, sales consultant at Saturn/West, earlier this week for breakfast during a brief stop in Columbus, Ohio. I had an opportunity to get an up close look at his newly-modified 2008 Aura midsize sedan. Over the years Al has enjoyed personalizing all of his Saturns, and his '08 Aura is no different. Just like his other cars, he did a good job customizing this one too. Al added a rear decklid spoiler, front billet grill, fog lamps, new alloy wheels, and chrome trim around the Aura's windows and on the doors. Tinted windows and carbon fiber trim throughout the interior added to the sedan's sporty look. He's not completely done with the transformation, but the execution of his vision thus far gives a really good idea of what a Red Line Aura could look like. Click here for photos of his sweet ride!
Random Article from the SaturnFans.com Archives
Music lovers will find it easier to take their favorite tunes on the road thanks to a new family of radios that will be offered in the Saturn Ion, Vue, and other GM vehicles starting later this year. The new radios include an auxiliary channel and front mounted auxiliary input jack, so that an iPod or other audio source can be easily plugged in and played through the vehicle audio system.