Workers Strike Astra Plant, Production Resumes Three Hours Later
Tags:
Production of the Saturn and Opel Astra resumed around 1:30pm today following a brief three hour strike that halted assembly of GM's popular compacts. "It looks like we're in the clear," a Saturn insider told SaturnFans.com this afternoon. The spontaneous strike momentarily suspended production of the Saturn Astra at a critical time. The brand needs a steady flow of vehicles to support its launch of the new car in North America.
According to a Reuters report, a union official representing the Antwerp, Belgium plant said that workers were unhappy with "irregularities in their pay." An article at CNN's Money website reported that the "issue has been on-going for several years." Details about how the conflict was resolved were not available at the time this article was posted.
Sources: Reuters, CNNMoney.com, Saturn
Random Article from the SaturnFans.com Archives
Tags: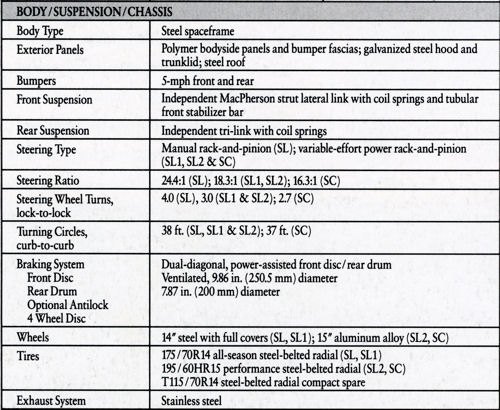 Shown above are the body, suspension, and chassis specifications for Saturn's 1991 sedans (SL, SL1, SL2) and coupe (SC). They were all built off of Saturn's so-called "Z" platform, which was essentially a compact front-wheel-drive steel spaceframe chassis.