Two SaturnFans.com Members are Among 20 Finalists Selected in Saturn "Kiss My Astra" Photo Contest

I received a couple of emails this weekend that made me very proud: two SaturnFans.com members' photos, spencerb's wedding picture and kpauley's donkey picture, were selected as finalists in Saturn's "Kiss My Astra" photo contest. Congratulations to both of them! The winner will receive a brand new Astra!! You can help choose the winner by casting your vote for your favorite photo at SaturnKissMyAstra.com. "Simply click on the images to see the entries and vote for your favorite," Saturn says on it's website. Voting ends September 28th.
And remember, you can vote once a day until the poll closes.
So go get started. Check out each of their pictures, along with the photos submitted by other finalists and vote, and pick your favorites. After you've voted, enter to win a $500 gift card for yourself by answering a few questions about the Saturn Astra. Good luck... and good luck to spencerb and kpauley! Wouldn't it be great if a fellow SaturnFans.com member won the big prize?!
Random Article from the SaturnFans.com Archives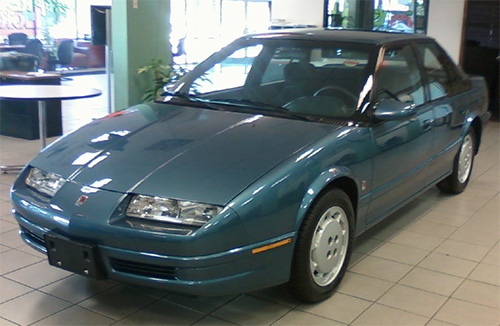 On this date in 1990, Saturn sold its first car. According to the St. Petersburg Times, the first Saturn - the blue SL2 sedan shown above - was sold just after midnight to Elaine Terry at Saturn of Clearwater. "I wanted an American-made car and decided to give it a try," Mrs. Terry told the newspaper. It was a 25th wedding anniversary present. USA Today and CNN were reportedly at the retail facility to document the event. "I kept it for 10 months and put over 5,000 miles on it. People all over the country wanted to buy the car from me. One man in Las Vegas was talking up to $100,000 for it."