Teaser: Next-Generation Astra Preview
Tags: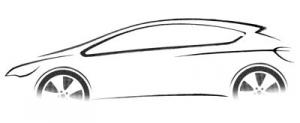 The next generation Opel and Vauxhall Astra will receive its premiere at next year's Frankfurt Show, delivering a compelling mix of technical innovation and groundbreaking design that promises to raise the bar in the compact sector. Following suit, the North American-built Saturn Astra is expected to make its debut about a year later.
With its flowing lines and signature sculpted blade, the new Astra will carry the spirit of the Insignia into the compact class, offering customers a premium feel, while maintaining Opel's value for money promise. Inside, the premium theme will continue, with a warm, wrap-around interior and a wing-line sweep that links the instrument panel to the door. An all-new chassis promises to maintain the Astra's reputation for class-leading dynamics, while new engines will maximize low-end torque to achieve miserly fuel consumption. Also expect to see clever and practical features on the new Astra, taking inspiration from systems like the Corsa's FlexFix integrated carrier.
The new Astra will major on technical innovation, such as the Front Camera System used in the upcoming Insignia, which combines traffic sign recognition with a lane departure system, improving occupant safety and potentially helping drivers avoid fines. Next generation Adaptive Front Lighting (AFL) will also be shared with the Insignia. The system adapts to different road and driving conditions by providing nine unique light beams, improving visibility and safety during night-time driving.
This will be the fourth generation of the hugely successful Astra, which has sold over 2.5 million cars in the UK during the last 27 years. The current model kick-started Opel's design renaissance when it was launched in 2004, and according to Mark Adams, GM Europe's Vice President of Design, it presented his team with serious challenges: "The present Astra already combines a high level of technical substance and emotional styling, but with the new car we are taking a big step forward in both respects, while emphasizing its sporting credentials."
Source: General Motors Europe
Random Article from the SaturnFans.com Archives
Tags: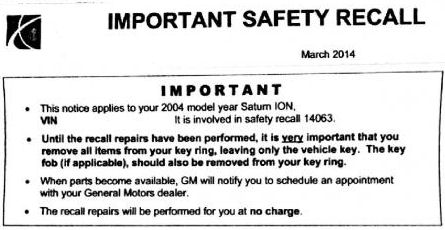 SaturnFans.com has obtained a copy of the letter being sent out to Ion owners impacted by the ignition switch recall. The bottom line: replacement parts are not available and if you have to drive your car make sure you remove the key fob and any other keys to eliminate any excess weight on the ignition key.