SaturnFans.com Members Win in the Saturn "Kiss My Astra" Online Photo Contest
Tags: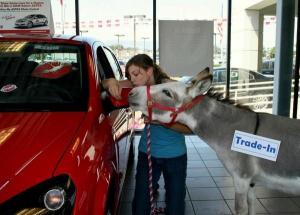 Congratulations to fellow SaturnFans.com members Ken and Dana on winning the online Saturn "Kiss My Astra" photo contest, and - as a result - a brand new Saturn Astra. Their photo, shown above, featured Dana, a Saturn Astra, and Ken's miniature donkey named Poppy. Saturn's Laurie Mayers says it logged "more than 25,000 votes" during the two week competition with the winning donkey photo reportedly drawing nearly 8,000 votes alone.
"My photo of our donkey and our neighbor made the top 20 so we are very close to winning the car," Ken wrote in a message posted last month in the SaturnFans Forums. "Your help in voting could make it so a SaturnFans member wins the car! The picture is listed under our neighbors name, Dana Roberts, and is the one with the donkey in it. The catch phrase we used was 'I'd trade my Ass in for an Astra.'"
Also deserving recognition are SaturnFans.com members Spencer and Jenny, whose wedding photo received enough votes to land them in one of the top five runner-up spots. They were the recipients of a $300 gift card. "The contest was a hard-fought one, and the entries were very creative," wrote Mayers. "Our sincere thanks to all who entered, and to all the Saturn retailers who participated."
Source: ImSaturn
Random Article from the SaturnFans.com Archives
Last week General Motors announced Buick would begin selling a new compact crossover in 2010. Later in 2011, the vehicle will feature the company's state-of-the-art plug-in hybrid technology. The Buick will be launched with two of fuel-efficient direct-injected gasoline engines: Ecotec 2.4L direct-injected four-cylinder engine with an optional 3.0L direct-injected V6. GM says the 2.4L will deliver 30 miles per gallon or more on the highway, a modest statement since the redesigned and just released 2010 Chevrolet Equinox with the same powertrain earned a 32 mpg rating by the EPA.