General Motors Loses Some Fine Cars with Death of Pontiac and Saturn

Scott Burgess from the Detroit News: For years, General Motors has been accused of relying on trucks and not building enough cars. Many say that's why the company is on the verge of bankruptcy right now. So when last week's announcement confirmed what has been percolating for months and the Saturn and Pontiac brands would be killed, it seemed like an oxymoron. These two brands have some of GM's best cars and not a single truck in their lineups. Sadly, these brands were murdered by General Motors Corp. over the course of two decades through neglect, indifference and arrogance. Technically, it was negligent homicide, but no charges will ever be pressed when Saturn goes down at the end of this year and Pontiac follows in 2010. Hidden behind the low sales figures and global platforms are a handful of excellent vehicles that should have been homeruns but fell short of the fences due to consumer indifference, poor planning and a collection of other factors. GM's ineptitude created losers out of the Saturn Astra and Aura while Pontiac couldn't bring sexy back to its image with the G8. At least these two brands will go down with their best – and most original – lineups ever.
Random Article from the SaturnFans.com Archives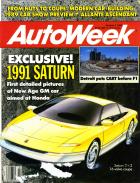 An illustration of the 1991 Saturn SC coupe appeared on the cover of AutoWeek's January 9th, 1989 issue. Inside, Kevin Wilson authored an article entitled "Saturn Rising" that discussed what was known about the mysterious Saturn project at the time of publication.