Freewheeling in a Buyer's Market
Tags:
Evelyn Kanter from Motor Matters "selected some desirable models priced at less than $20,000 to put on your radar screen" if you're in the market for a new car. The Saturn Astra made her list, along with the Hyundai Elantra, Volkswagen New Beetle, Nissan Versa, Jeep Patriot, and Toyota Tacoma. "While fuel prices have skyrocketed," she wrote, "the cost of a new car still remains affordable." Read what she had to say about the Astra.
The Saturn Astra has been popular in Europe for several years, under GM's Opel brand. Introduced to North America this year, it replaces the unpopular Saturn Ion. The Astra has smart styling inside and out, with an interior that feels more upscale than other vehicles in this price range, including contoured seats with real side bolsters that feel solid. Maybe it's the European heritage. The five-door model has more trunk space than the three-door, and in both models the rear seats fold down for additional cargo space. Suggested retail is $15,875 to $18,375.
Random Article from the SaturnFans.com Archives
Tags: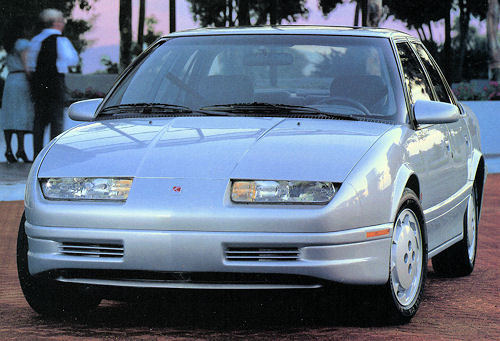 Sometimes its fun to pause for a moment at take a look back at how much things cost years ago. Take for instance Saturn's 1991 lineup, when base SL sedan was sold for less than $8000! The SL2, shown above, could be purchased for just over $10,000. Note the simplicity of the option sheet, along with the available anti-lock braking system (ABS) and unavailable airbags.