Another 2008 Saturn Family Photo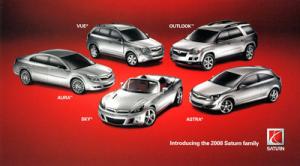 This image of Saturn's 2008 lineup of vehicles all painted in the same silver hue was actually included on the back of a handout discussing the EPA's new formula for calculating vehicle fuel economy ratings. Other 2008 images of Saturn's complete lineup of cars and trucks can be seen here and here.
Random Article from the SaturnFans.com Archives
Chevrolet and Cadillac have been getting a lot of press lately as GM's mass-market brands for mainstream and luxury vehicles, respectively. That's left folks with a lot of questions about the other brands situated in the middle of GM's portfolio. You might have even been asking yourself: is there a plan being executed here, or is a GM making things up as it goes along?