Another 2008 Saturn Family Photo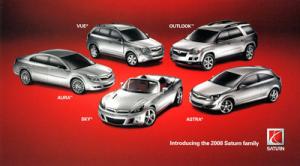 This image of Saturn's 2008 lineup of vehicles all painted in the same silver hue was actually included on the back of a handout discussing the EPA's new formula for calculating vehicle fuel economy ratings. Other 2008 images of Saturn's complete lineup of cars and trucks can be seen here and here.
Random Article from the SaturnFans.com Archives

Up until this year the general public had really only seen one picture of the original Saturn prototype that was taken when it was unveiled to the automotive press in 1984. However this year, thanks to the General Motors' collaborative GMnext 100th anniversary website, a bunch of never-before-seen photos of Saturn prototypes from the company's archives have made their way onto the Internet.