'10 Astra Secrets Revealed?

Drive, an Australian online motoring magazine, has a sneak peak at what they think the next-generation Astra will look like. Due in 2009 and sold by Holden in the land down under, Saturn's version is expected to go on sale in North America a year later. According to the article, the new car will feature "sexier looks, sportier handling, and fuel-efficient engines." Follow the link beneath the quotes below for a look at their Astra preview and spy photos.
Our artist's impression reveals how the European Astra is set to adopt new sheetmetal based on the new Opel Insignia mid-size sedan unveiled in April. Drive's spy photographers have caught disguised versions of the new Astra testing at Germany's Nurburgring circuit, ahead of its expected 2009 debut at either the Geneva or Frankfurt motor shows. The latest-generation Opel Astra will sit on General Motors' new global Delta platform, which will also underpin other key future models under the GM umbrella such as the 2009 Saab 9-1 and 2010 Chevrolet Volt hybrid. As a 'world car' throughout the GM empire, it will also be rebadged using the same sheetmetal for the likes of Holden, Vauxhall (Britain) and Saturn (North America).
Random Article from the SaturnFans.com Archives
Tags: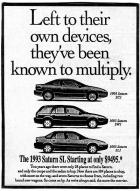 This folksy Saturn newspaper advertisement was one of many used to promote Saturn's newly expanded 1993 model year lineup of S-Series vehicles. The ad featured many of Saturn's classic advertising elements from that time period, including a catchy headline, a prominent photo, and a few clever sentences written to make the reader feel right at home with Saturn. "Left to their own devices, they've been known to multiply," read the main heading of the text.