You're Invited to the 2012 Saturn Reunion
Tags:
In just one month SaturnFans.com will be hosting the first-ever virtual Saturn Reunion and you're invited! Please join us as we pause for 24 hours to celebrate the accomplishments of Saturn Corporation, our favorite memories of the brand, and our special ownership experiences. The first Saturn was sold on October 25, 1990 and on that day next month Saturn fans from around the world will get back together - online - to reminisce, remember, and catch up on life after Saturn.


In preparation of the big event, I encourage you to:
1. Update your forum profile.
2. Upload new photos of your car. (If you don't a Saturn anymore, you can upload your vehicle pictures to the "Not Quite Saturn" category within the photo gallery.)
3. Post a message in the forums to reconnect with other SaturnFans.com members.
4. Help spread the word by using the "Share This" link below.
See you there!
Charlie
Random Article from the SaturnFans.com Archives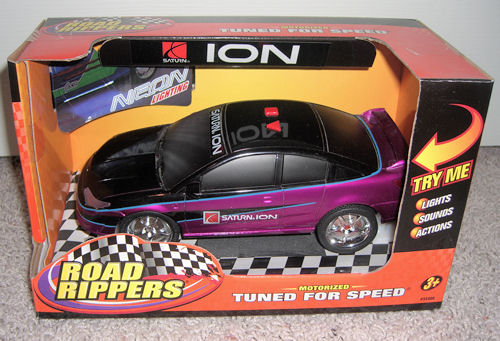 A few years ago Target sold some motorized Saturn Ion toys that were "tuned for speed." The cars were available in two colors: black/purple (pictured above) and red/black (below). On the top of each car were two buttons. Pressing the triangle caused the car to rev its engine, flash its headlamps and under-body neon lights, and finally zoom forward a few feet. The square button started a caused the car to play a catchy rhythmic tune with the lights flashing along to the beat.