SaturnFans.com Server Back Online After Crashing Due to Several Days of Record Traffic
Tags:
The server crash caused extensive damage to the database; it took a lot of time to troubleshoot and reconstruct. After working on this for two long nights, everything should be back to normal now. I apologize for the inconvenience. If you notice anything still acting strange, please send me an alert. Thanks for your patience.
Random Article from the SaturnFans.com Archives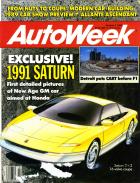 An illustration of the 1991 Saturn SC coupe appeared on the cover of AutoWeek's January 9th, 1989 issue. Inside, Kevin Wilson authored an article entitled "Saturn Rising" that discussed what was known about the mysterious Saturn project at the time of publication.