SaturnFans.com is Now on Facebook
Tags:

With General Motors' unfortunate decision to shutdown Saturn, the need for venues that enable owners and fans to communicate is greater than ever. In an effort to foster that communication across as many mediums as possible, SaturnFans.com can be followed via Twitter, RSS, ImSaturn, and now there's a fan page on Facebook. It's another place for Saturn owners — past and present — to socialize, share experiences, and offer support to each other in the wake of Saturn's untimely closing.
Become a fan of SaturnFans.com on Facebook today. Thanks!
Random Article from the SaturnFans.com Archives
Tags: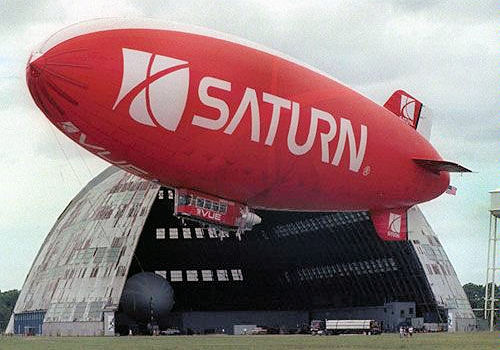 Saturn Corporation was the first North American auto manufacturer to utilize aerial advertising when the Saturn Lightship made its debut in the summer of 2001. The Saturn Lightship, a 165-foot, 6,335-pound A150 blimp, traveled across the United States supporting a variety of events and promotions held to promote the launch of the company's first sport utility vehicle, the Saturn Vue.