SaturnFans.com Back Online After Record Traffic Crashes Server (Again)
Tags:
For the second time this month, SaturnFans.com has been knocked offline due to the surge of Saturn owners and enthusiasts flocking to the Web to read more about GM's decision to shutdown the Saturn brand. This time damage was much more extensive. While the primary site database has been reconstructed, there is still some work that needs to be done. Additional hardware and software configuration modifications still need to be made. However, at this time, everything on the site should be back to the way it was when the site went down Saturday night. If you notice anything amiss, please let me know. I apologize for the extended inconvenience. Thanks for your patience.
Random Article from the SaturnFans.com Archives
Tags: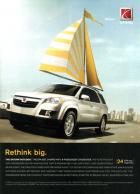 I don't know when I started receiving "Dwell" magazine, and I don't know why. Neither my wife nor I can recall subscribing to it, but its been showing up in our mailbox every month. I'm guessing it was a gift, but I feel bad for not remembering who might have given me the subscription. Maybe I was on a mailing list and I'm now "test driving" the magazine for free for a few months...