Saturn News Alerts From GMbeat.com
Tags:

I used to spend hours researching, writing, and posting stories about Saturn at SaturnFans.com. Since Saturn's untimely closing, Saturn-related news stories are few and far between, but every so often Saturn is still referenced in a news article. As a result, I've built a feed that funnels Saturn stories from my GM Beat Saturn channel, directly into the General Saturn Discussion forum. If any of the articles are of particular interest, such as a recall alert, I'll be sure to also post them right here on the main SaturnFans home page too. I think you'll be surprised how often Saturn turns up in the news... I sure was. Enjoy!
Random Article from the SaturnFans.com Archives
Tags: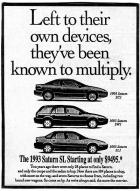 This folksy Saturn newspaper advertisement was one of many used to promote Saturn's newly expanded 1993 model year lineup of S-Series vehicles. The ad featured many of Saturn's classic advertising elements from that time period, including a catchy headline, a prominent photo, and a few clever sentences written to make the reader feel right at home with Saturn. "Left to their own devices, they've been known to multiply," read the main heading of the text.