Saturn Introduces "Saturn Authorized Service Providers"
Tags:
From Saturn: On October 19, 2009, we sent a letter with the news that the sale of Saturn could not be finalized and as a result, the Saturn brand will be phased out over the next year. Reading letters you sent in, as well as the thoughts that were posted on saturn.com has been an emotional and uplifting journey.
It's clear that we enjoyed something "different" and special as members of the Saturn Family, and we'll all miss that bond. Looking ahead, we want to assure you that we remain deeply committed to all Saturn owners.
Here's what it means to you.
Over the next year, as Saturn retail facilities close, we will be launching a network of Saturn Authorized Service Providers. Our plan is to have these service providers in place as Saturn closes its stores. Although we have some catching up to do for the ones that have closed over the past year, we should have a solid presence of providers in place by the end of 2010.
You may have already received a message from us, letting you know the name of your Saturn Authorized Service Provider. Rest assured, they are committed to providing the same level of service as when you first purchased your vehicle.
If you have not heard from us, it is likely that your Saturn Retailer is still open for business. We will notify you when an authorized service provider is in place.
Your Saturn Authorized Service Provider is easy to find. Simply use the dealer locator tools on saturn.com or gm.com. When you search by ZIP Code, both Saturn Retailers and Saturn Authorized Service Providers will be displayed.
When you visit for the first time, look for this logo; it's a sign of our ongoing commitment to you and your Saturn vehicle. You can be sure we're doing all we can to make you feel right at home, from offering technicians' expert training and the proper tools to providing you with genuine Saturn parts and friendly, knowledgeable people.
If you have any questions, please call our Customer Assistance Center at 1.800.553.6000 and speak to a representative or send your questions to cac@saturn.com. Our representatives will be happy to assist you.
Sincerely,
Your Saturn Customer Care Team
Random Article from the SaturnFans.com Archives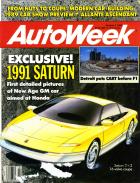 An illustration of the 1991 Saturn SC coupe appeared on the cover of AutoWeek's January 9th, 1989 issue. Inside, Kevin Wilson authored an article entitled "Saturn Rising" that discussed what was known about the mysterious Saturn project at the time of publication.