Saturn Chat Tonight at 9pm
Tags:
I wanted to post a quick reminder that I'll be in the SaturnFans Chat Room between 9-10pm EDT tonight. I'll be taking questions all night. And I'd like to get some feedback from you all too. For instance, was the Reunion worth the effort to put together? Also, I've worked up a couple different concepts for next-gen SaturnFans.com websites, but I am not sure with the direction I want to take the site in the coming years. What would you like to see in the SF of the future? Let's talk more at 9. Hope to see you there!
Random Article from the SaturnFans.com Archives
Tags: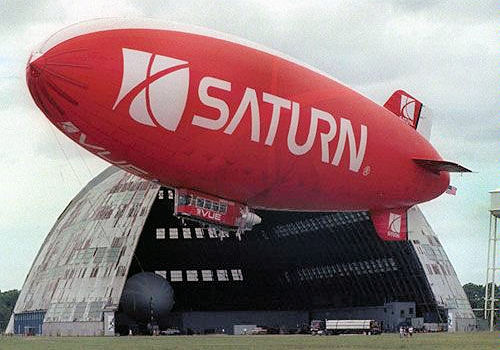 Saturn Corporation was the first North American auto manufacturer to utilize aerial advertising when the Saturn Lightship made its debut in the summer of 2001. The Saturn Lightship, a 165-foot, 6,335-pound A150 blimp, traveled across the United States supporting a variety of events and promotions held to promote the launch of the company's first sport utility vehicle, the Saturn Vue.